Greetings from my art studio!
How's life in your world?? I hope you're enjoying a spectacular Summer!  I just got back from a glorious few days in Malibu… definitely what I needed.
I want to share some paintings with you of the sea, the rivers and the mountains.  I find there's an overwhelming sense of freedom in the mountains, a place where there is no time, where I can be alone, but never lonely.  And the sea and the rivers are so hypnotic with their incessant pulse and motion.  The waters listen and the mountains sustain. I love having this experience of our beautiful planet!
All paintings are available for sale here on my website, or you can click on the artwork images for details.
I hope you find joy in this work. ♥️
________________________________________
Riviera Seascape
20h x 16w
original painting / acrylic on canvas
I was so lucky to grow up on the eastern seaboard and to live now on the west coast in California.  The natural beauty provides and endless source of inspiration for my painting.  Even in my dreams I can taste the salt air and hear the sounds of the sea.
_____________________________________________
Daydream West II
36h x 60w
original painting / acrylic on canvas
I love the look and feel of an unpredictable sky and the movement you can see here of the dancing flowers.  This painting represents adventure for me and I always seem to be up for that!
Where do you long to go when you need a change of scene?  I hope you have a secret get-away or two that you can always rely on!
_____________________________________________
Twilight, Blue Horizon
24h x 30w
original painting / acrylic on canvas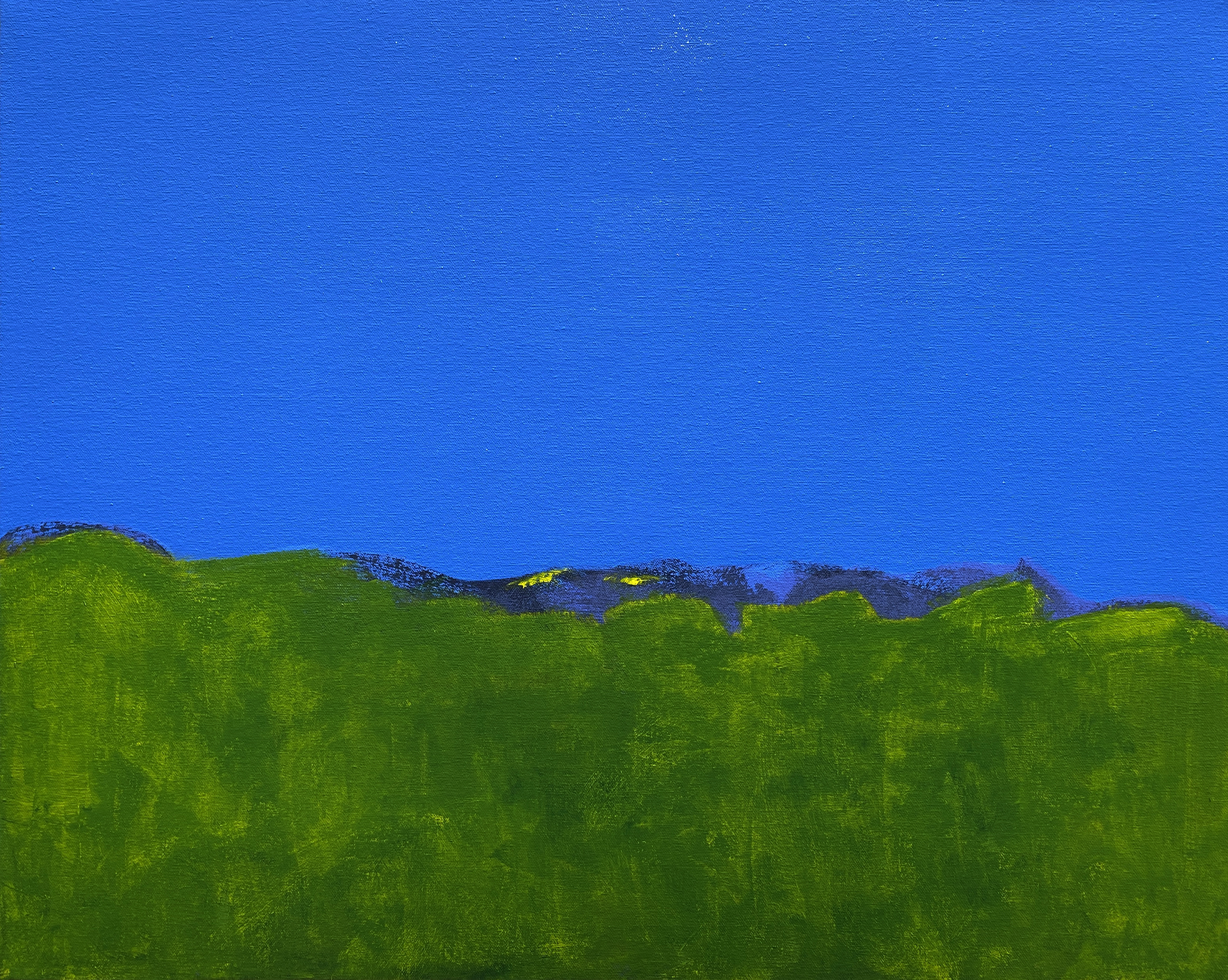 There was s stretch of road near the Hampton Beach shoreline that I used to love driving past in the twilight hour. The sky would illuminate the marshes, the grassland and water line in such a way that it somehow always made me feel like everything was going to be OK.
Did you know that coastal marsh plants provide significant protection from surges and devastating storms??  I love that nature has its ways of protecting us all.
_____________________________________________
Autumn Mountain
9.5h x 9.5w
original painting / acrylic on canvas
I used to spend every weekend of the fall season driving up to the White Mountains in New Hampshire.  At some of the higher elevations, the ridges would be snow covered and when you'd stand at the edge and look out, the stunning visuals of orange and red leaf cover would literally take your breath away.
If you've never experienced Autumn in New England, I highly recommend it!
_____________________________________________
River View, Silver Sky
12w x 16h
original painting / acrylic + ink on canvas
So great is my appreciation for the time I get to spend outdoors.  I need more of it.
The rivers and streams are the places I would run to in my young life when I needed to get away, far into the forests of Massachusetts.  Another world, one where I could listen to the birds and the sounds of water sweeping past me as I lay back on the giant granite slabs that held the warmth of the Summer sun.
_____________________________________________
Marin County Landscape
24h x 36w
original painting / acrylic + ink on canvas

"Only when we get to see the aerial view will the patterns show, we'll know what to do…" this is a lyric from the song Inside Of Love by Nada Surf. It's SO GREAT.
I use music in the studio all the time, it really inspires and often guides me in my painting.  This piece makes me feel like I can fly, ike I am soaring down into the trees and water below.
I'd love to hear how my paintings make you feel!  Just hit the 'reply' button and let's chat!
____________________________________________
WE'VE GOT PRINTS!
Mary Lonergan Art prints are now available for sale on Saatchi Art!  Prints are a great way to have beautiful art at a lower price point and Saatchi Art does a great print/pack and ship service.  
This artwork below is available in prints… click here
Mohawk Trail State Forest, Deerfield River

_____________________________________________
WHAT ARE YOU THINKING?
Where's your mindset??  I just had mine upgraded at a 2-day retreat in Malibu with the amazing Laura St. John. Do you know her yet?  She's a mindset coach I've been working with and, seriously, it's the best investment I've ever made!
Laura has taught me the most amazing tools for getting unstuck and for creating the life of my dreams…and it's working!!  Not only that, she is so easy to work with and is one of the kindest people I've ever met.  If you're looking for a change in your life, definitely check her out.
Here's a link to her mindset school and other workshop options: Mindset Coaching with Laura St. John and she's on Instagram + Tiktok + LinkedIn.
___________________________________________
LET'S CONNECT!
Are you on social media? Click on my icons below and let's connect!
P.S. There are some sweet Mary Lonergan Art Greeting Cards and Mary Lonergan Art Gift Cards in the shop. Maybe you know someone who could use a little art love?
P.S.S. If there's work on my website that you love, but may need some help with pricing or a payment schedule, talk to me. ♥️
In love and gratitude…
Mary