Greetings from my art studio in Oakland! AUTUMN?? Not sure exactly what happened to Summer, but always happy to go into my favorite season! The light has already changed and soon the gorgeous winter light will be with us.
I've been taking snapshots in my head about what's different this year and how the shift to full time art has altered my perception of what daily living means. I've had a little trouble articulating this transition (even to myself) so I've spent my recent studio time working in abstraction and have created several new paintings. There appears to be a language element to some of these, although not anything I can decipher or clarify. I wonder if somehow it transmits or feels like language to you too.
SATELLITE LOUNGE – ORANGE
18h x 24w
acrylic + ink on canvas
________________________
This place feels like such an easy space to hang out in. Kind of a mix between between a favorite cocktail lounge and an Italian designer's New York City loft that you never knew about before today. Yes… that place.
GOLDEN SATELLITE STATION
18h x 24w
acrylic + ink on canvas
____________________________
I just love this new work. The color combination is so dreamy + hypnotic I immediately go into a bit of a trance looking at it!
There are many ways we can choose to communicate and one of the beautiful things about experiencing art is that you can always have that exchange of energy or communication, even when you are by yourself, staring at a new painting. Every work of art has the artist's intention and authority in it. And it is communicating…with you!
I wonder about that kind of communication. Is the work getting you to experience a direct hit like that? I would love to hear your reaction!
__________________________________
Are you collecting NFTs yet??
An NFT you say?? If you're new to the NFT space and feeling at all out of your depths, hit reply and email me – I'll send you the best information I have. It's a bit of a learning curve, but such a fun space and if you love collecting, you will enjoy it!
I have just recently listed some NFT artwork for sale on a platform called OpenSea. This new original abstract below will be included as part of an NFT package, so the buyer gets the NFT and the original painting!
WHAT ARE YOU SAYING?
18w x 24h
acrylic + ink on canvas
~ available only as part of the NFT sale on Open Sea (click on
image to get to the Open Sea platform).
________________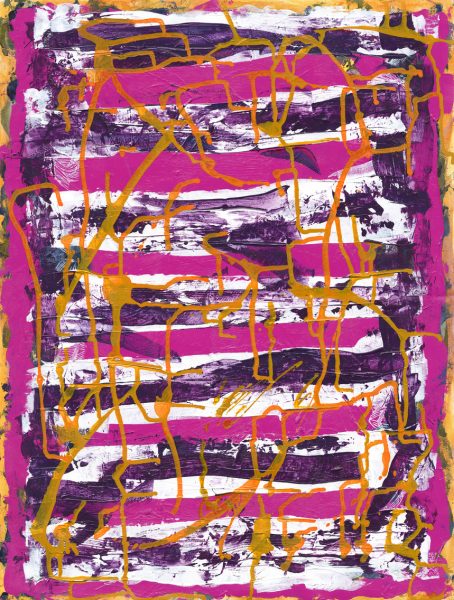 Here is a link to an excellent bit of information on NFTs, crypto currency and the like from Etherum.org that covers a lot of the basics (very helpful!) https://ethereum.org/en/nft/
I'm on social media and would love to connect with you if you're out there! At some point soon hopefully I'll be lucky enough to see you in person and spend some quality time. In the meantime, be good to yourself and say YES to yourself much more often. Time is having her way with us while we stumble in denial.
P.S. We've got Mary Lonergan Art Greeting Cards and Mary Lonergan Art Gift Cards in the shop.
Love and peace to you.
XOX
Mary